Welcome!
Jefferson Dollars for Scholars®, a chapter of Scholarship America® is located in Metairie, Louisiana. We provide educational opportunities for the students in Jefferson Parish Public Schools and help keep students local, growing our community. Click on the "About Us" tab above to learn about all our programs and how you can help.
"Like" us on Facebook and follow us on Twitter @Jeff4Scholars for the most up to date information of goings on at the Jefferson Dollars for Scholars!!
---
---

The Cookin' For College Chili Cook Off
scheduled for 11/17 has been postponed.
Stayed tuned for updates on rescheduling.
You can still donate to @Jeff4Scholars at http://www.jefferson.dollarsforscholars.org. Thank you in advance.
---
Congratulations to
Jefferson Dollars for Scholars
for receiving a
2018 Proclamation
from
 Councilwoman Cynthia Lee-Sheng
and the
Jefferson Parish Council
---
Click here to learn more about the
sponsored by
and
presented by
Nola.com and The Times-Picayune.
---
South Arts is offering Southern Prize and State Fellowships for
the 2018-2019 school year.
South Arts State Fellowships: $5,000.00
The South Arts State Fellowship is a state-specific prize awarded to artists whose work reflects the best of the visual arts in the South. A national jury will select one winner per eligible state, with artistic excellence being the sole criterion. State Fellowship recipients will be required to attend the awards ceremony on April 15, 2019 in Columbia, SC.
South Arts Southern Prizes: $10,000.00 and $25,000.00
Nine State Fellowship recipients will compete for the South Arts Southern Prize. Prizes will be awarded to artists whose work exhibits the highest artistic excellence. The Southern Prize winner will also receive a two-week residency at The Hambridge Center for the Creative Arts and Sciences.
For questions or comments, visit the Southern Prize website, contact them by email at southernprize@southarts.org or call 404.874.7244 ext 10.
---
Scholarship America and Wells Fargo are pleased to announce the launch of the 2019 Wells Fargo Veterans Scholarship and Wells Fargo Veterans Emergency Grant programs, designed to help veterans complete the post-secondary education or training they need to return to -- and succeed in -- civilian life and work. Since 2016, Wells Fargo and Scholarship America have awarded 72 scholarships and 135 emergency grants. We need your help to spread the word about this year's programs.
The Wells Fargo Veterans Scholarship Program provides scholarships up to $7,000 per year, to fill gaps for veterans and the spouses of disabled veterans after military benefits and other grants and scholarships have been utilized. To help recipients focus on completing their degree, these scholarships are renewable, and award amounts will grow by $1,000 each year. The deadline to apply is February 28, 2019.
Wells Fargo's emergency grant program helps veterans already enrolled in higher education meet their household expenses when faced with unexpected financial setbacks. Ranging up to $1,000, these immediate, one-time grants are designed to keep recipients in school without creating undue financial hardship.
Both programs are accessible via scholarshipamerica.org/wellsfargoveterans. With your help, we can ensure that veterans in your community are aware of these new opportunities. Spread the word!
---
Massachusetts learns about
Jefferson Dollars for Scholars!!!
---
Katy Wong is our 2017 Tulane award recipient!!!
See the beautiful wooden digital fabrication
of her award picture that she created!
We're so proud of you, Katy!!!
---
Click here to view photos from our
2018 College Awards and
Enrichment Camp
Awards Ceremonies
---
Jefferson Parish Schools are working hard to raise $1.00 per student and staff for our scholarship fund. Please support your child's school.
HUNDREDS of ambitious and dedicated students are looking to Jefferson Dollars for Scholars for educational assistance. Please go to the Donate Now page and DONATE what makes you feel good and proud to be part of a community that invests in its own future.
We will all be GLAD to have so many GRADS.
---
We're in the national newsletter!!!!!!!!!!!!!
inTouch, Scholarship America's monthly newsletter, recognizes Jefferson Dollars for Scholars in their February issue for its innovative Laptops for Scholars program, a program created so that every Jefferson Dollars for Scholars college scholarship recipient starts college with the most important school supply.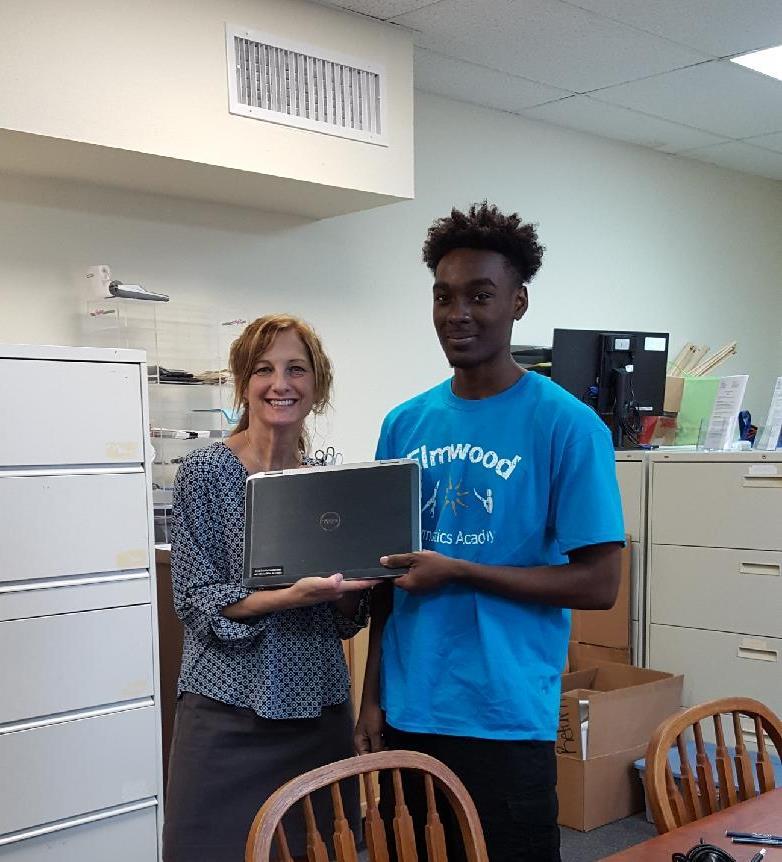 (Pictured above: Millie Baudier and Anthony Nunnery, a 2017 Cox Award Recipient)
Jefferson Dollars for Scholars has awarded scholarships to students in Jefferson Parish, LA since 1993. After Hurricane Katrina, the affiliate sought to meet the needs of their scholarship recipients in an additional way by providing refurbished laptops and has been doing so ever since. Jefferson Dollars for Scholars provides over 100 refurbished laptops annually to its award recipients. Laptops for Scholars is sponsored by Cox Communications, and Millie Baudier, our Board Member and Cox Community Specialist, presented the laptops.
---